You're probably feeling overconnected, overcommitted and overwhelmed … at least some of the time. It's not about working harder, it's about having more impact.
To do that, you need to change the way you work. And that might be simpler than you thought.
The Coaching Habit gives you seven questions and the tools to make them an everyday habit. Master them, and you'll be able to work less hard and have more impact.
The book can be ordered in bulk from our distributor, Porchlight Books.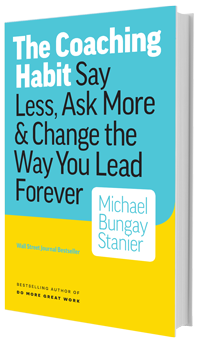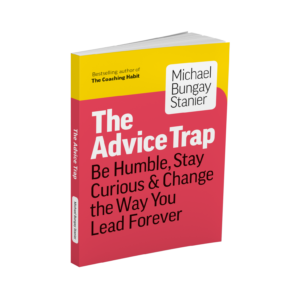 The Advice Trap
Curiosity is easy in theory … but tricky in practice.
Learn to tame your three Advice Monsters, Tell-It, Save-It and Control-It. Understand the difference between Easy Change and Hard Change: the basis for any personal and sustainable behavior change and the key to personal growth.
How to Begin
As a coach, leader or mentor you can help people set and achieve Worthy Goals. When people find the right combination of thrilling, important and daunting, they become a force for change. This book offers a powerful process in nine steps to help people find their Worthy Goal, commit, and cross the threshold to begin.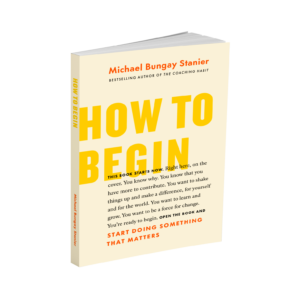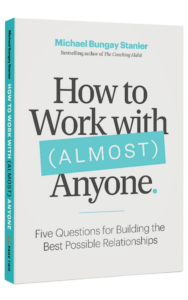 How to Work with (Almost) Anyone
The perfect book for anyone who wants to stop hoping that their working relationships will be good and wants to start doing something about it.
Do More Great Work
This award-winning book provides 15 practical exercises to help you do more of the work that plays to your strengths, engages and challenges you, and that has a real impact. Do More Great Work will get you focused on the work that matters.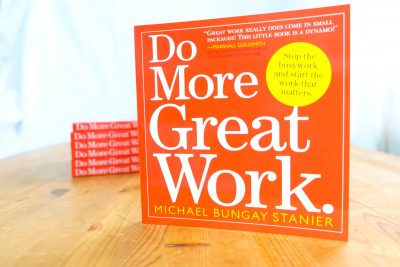 What people said about the coaching habit
"Practical and inspiring."
Brené Brown, Daring Greatly & Rising Strong
"Simple yet profound."
Dan Pink, Drive
"This is a brilliant how-to manual."
David Allen, Getting Things Done
Have questions about what we do or how you can work with us? Let's talk.